THIRD things 3rd.
~ Know the map. Know where your Team Mates are, and how many of the opposite Team are visible on circles. Be aware if you are time capturing when the other team arrives, don't get caught alone.
~ When beginning a Match, depending on if you are fast or slow try to get a feel for where the Pips Spawn and worry less about capturing a circle than getting your Pips filled up. You may have to run partially into the other Teams side, stealing pips they haven't gone for.
~ Slower players such as Colossus and Cyclops should always at match start, since they can not hold pips, try to grab the available chests on their Teams side of the map. They need all the Zero Pip Cards they can get.
~ Getting pips is not as important as arriving to a fight early. If you don't have pips but someone just got into a 1vs1, rush to help them, forget pips unless they are close. Arriving a turn late can mean a lost fight unless the combo of Beasts is right. Often arriving late means you watch your team mate die right away and then face 2 opponents alone.
~ Buying Time when you got into a fight. This is important. You were capturing and the other team caught you looking the other way, Cards are up, what to do? You have moments to type "help!". Now, STALL. Make your move each turn on the 3 second mark. Buy your Team time to arrive.
~ This is meant to be a Team effort, but you are going to be Teamed up with all manner of players, some who will try directing you, some who will not know what the right direction is. Learn the Dynamics quickly and do what you think is right. Direct Team Members who are unsure of how to play as best able , which maybe where your research comes in. Try to forgive people who go AFK, much of the time it is something around the house calling their attention and it rarely happens on board.
~ Spiral does not open until half the points are accumulated(ish) If it opens be careful trying to time capture it, most people will start a fight there on instinct. Stand on the edge of it and keep looking at all entries for the other Team. Get off Spiral if you are alone and the other Team arrives, even if it's just 1, more may be right behind them.
~ When you've captured either Star or Eye the Portals change to your color & can be used for stacked Speed Boosting. Slow Beasts can Zoom across the map. Just go through them a few times to stack.
~ The Teleporter is often the quickest way from Eye to Star and back in the Pit. If you had a fight on either & your Team is just beginning one on the other, take the Teleporter after getting Health. If you can not go back due to contested circle head towards the side and take the other teleporter.
~ If you are the type to dive right back into the next match you may find youself surrounded by a mix of the last two teams. Press Tab and see if any of your previous high level Team mates or opponents are back in play.
~Final Bastion Chat Tip: Hold Ctrl while running forward (holding W/Up arrow). Release the direction key first and Ctrl second. You will auto-run forward. Thus, you may type a message while running.
~ Utility Utility Utility, can't stress this enough. When playing, think about the Beasts you're facing and what you have in your Deck and discard the right things, properly use utility, but be careful, at low level you do not have very many cards total.
~ Cut Throat Tip - If you win a Spiral or Eye/Star fight and the remaining players on the other team are on circles fighting also, rush to the other Teams base/side of the map and scoop up all Pips and Chests while they wait out timers.
~ Just because you can play a Spell does not mean you should. Sometimes it is better to hold out for more pips than to play the only thing you've got available. Rat for example has a number of one pip options. A wrong play may sometimes cost him a crucial utility play later.
The Mini Maps with labels.


Mirage Battlegrounds Map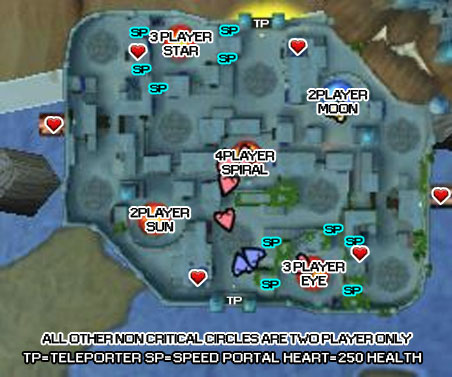 The map below is upper and lower levelled.
For Spiral or either Base take the rooftops.
Into the Pit Map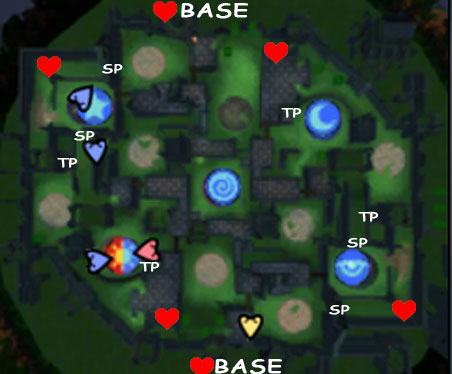 ~ Defensive players want to be first position. If I had to arrange all the Beasts in order I'm sure opinions would differ, from my experience Life should only start a fight when someone is with him and ready. He wants to be first so his Hots are effective. Colossus, Ice Krokomummy, Cyclops & both Wolfs have the same sort of preference so if you are with any of them, let them start fights.
~ Just because Drac is the Healer does not always make him the natural Target. Often since he is limited in deck, killing a hitter a couple of times is preferrable to not killing the healer before a Team Mate dies. Often it is good to hit Drac first so that he feels threatened, then move on.
~ Both Fairys(Death and Balance), Balance Wolf & Fire Elf have spells which let them give other players Pips. If you play these Beasts, remember which other Beasts have big Spells.
~ If you play Drac and try to be the Healer, think more often about using the Resuscitate on the most valuable hitter instead of yourself. You may come back to life, but with only 1 pip and 200 health. A hitter can still hit with that. You may have only heals in hand.